You all know how much I LOVE cooking and baking in my spare time and consequently how could I not be a big fan of culinary romances? So it is with great pleasure that I introduce you to
Kimberly Kincaid
, fellow contemporary foodie romance author, who stops by to tell you about why food is sexy! And if you'd like to take a peek, why not try 
or its sequel, Drawing the Line? I bet you'll be in fr a sweet (or rather spicy) treat! ;-) 
Breaking The Boundaries: Unusual Aphrodisiacs and Why They Work
by Kimberly Kincaid
Okay, so as a foodie author, I have a lot of vested interest in whether or not the effects of aphrodisiacs are fact or fiction. But there's something about certain dishes that make them inherently sexy, and I'm not just talking about the standard oysters of the half shell and chocolate-dipped strawberries. What is it about food that offers such potential to take things from the kitchen to the bedroom? The answers may be simpler (and sexier!) than you think.
Food incorporates all five senses naturally.
Food is one of those lovely catch-alls that allows us to weave in every one of the five senses with ease. Of course there's taste, but dig even deeper. Before any dish hits the plate, we can see it, smell it, feel it and even hear it, especially if we're cooking. For writers, it's a great place to slide in a few colorful and unique comparisons. In the opening scene of , my heroine Violet compares the ingredients in Spanish paella to a the threads in a tapestry. We hear the sizzle of the ingredients on the stove, the smoky scent of Chorizo and paprika, and are shown the deep yellow saffron-colored rice. It all comes together to put the reader in the spot, and what's more, it uses the five senses to do it. Evocative? Yes. Effective? You bet!
Food can have emotional and sensual connotations.
Let's be honest. Most food isn't inherently sexy on its own. But if you link it to the right scenario, if you give it a story to go with it, that food takes on not just a lot of emotional connection, but it can also translate into some pretty sexy stuff. In , Noah makes Violet a spaghetti dinner. Not really steamy in its own right, as spaghetti is a fairly common, potentially ho-hum meal. But why Noah does it (and that he does it at all) makes all the difference, and it leads to the most provocative scene in the book. The food becomes sensual as a part of the experience. It's more than just dinner.
Food is indulgent and personal.
Lastly, food is just yummy (yes, that's the technical term!) It's indulgent. It makes us feel good. Characters in books (or people in real life) can cook for each other as a method of comfort and caring, can feed each other as a provocative experience (we've all seen
9 ½ Weeks
, right?!), and can use food to find that next level. What we choose, what is indulgent and sexy to each of us, is as unique as a fingerprint. But discovering it alongside someone we love can truly make it all the more incredible.
So tell me, reader-friends!
What are some foods you find inherently sexy or indulgent? Do you think aphrodisiacs are science, or sensual? And for you writers, how can you work these themes into your work to put some shake in your bake?
Tell all!




Violet Morgan puts the personal in personal chef, catering to clients who want the full cooking experience rather than a culinary drop-and-dash. But when her brother's police detective partner is injured in the line of duty and needs help during recovery, she makes an exception. Violet lost her father to the job seven years ago, and worries for her brother's safety every day. The last thing she wants is to get up-close with her brother's career-cop partner…again.

For Noah Blackwell, being a detective isn't just a lifestyle, it's a legacy. So when he's forced to take mandatory leave and deal with the trauma amnesia keeping him from identifying his shooter, it's a literal case of adding insult to injury— and now he's got to deal with an unwanted culinary caregiver on top of it. Never mind that he and Violet shared a steamy, secret kiss last New Year's Eve. She rejects everything related to the job, and Noah's not about to be distracted from recovering his memory and getting back to what he does best. No matter how pretty Violet is.

Despite their differences, Violet and Noah share a surprising bond in the kitchen that grows into something neither of them expect. But as Noah heals and their feelings for each other extend from the kitchen to the bedroom, Violet knows she must make an impossible choice. She may wear her heart on her sleeve when it comes to food, but can she risk it all to put love on the line.
Excerpt of 

As soon as Noah got behind her, the smell of coconuts and warm sand filled his senses, delivering a crystal clear image to his brain. His heart slammed in his ribcage, and without thinking, he cupped Violet's elbow and swung her around, so tight to his body that he felt her gasp as much as heard it.

"You were in my hospital room yesterday. Before I woke up."

"I…I—"

But he barreled on, the memory as bright and vivid as if it had just happened a minute ago. "Your hair was braided, on your shoulders, and you were wearing a…a bracelet that sounded like wind chimes. You said the doctor was coming. It was you."

The fan of her gold-tipped lashes fluttered wide, and the warm puff of her breath heated his cheek as she nodded. "I didn't mean to intrude. I was looking for Jason, but I didn't think you'd wake up."

Noah shook his head to quell her apology. "It doesn't matter," he said, his resolve locking into place, and Violet went utterly still against him.

"It doesn't?"

"No. You're the first thing I've been able to remember since I got shot in the first place. In fact, you're the

only

thing I can remember since I got shot."

Buy at  for only $0.99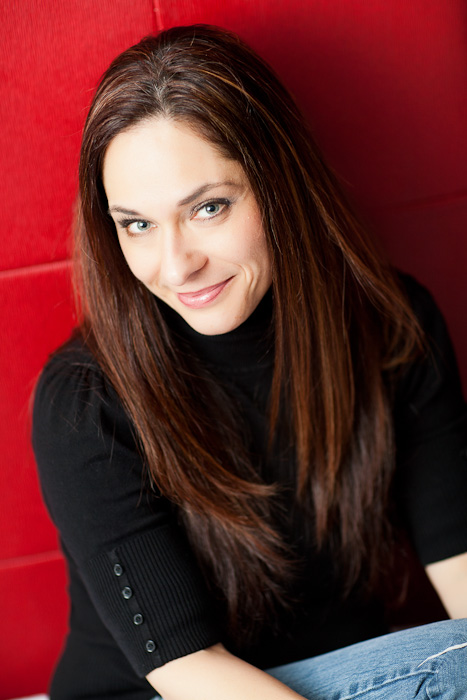 Kimberly Kincaid writes contemporary romance that splits the difference between sexy and sweet. When she's not sitting cross-legged in an ancient desk chair known as "The Pleather Bomber", she can be found practicing obscene mounts of yoga, whipping up anything from enchiladas to éclairs in her kitchen, or curled up with her nose in a book. Kimberly is a 2011 RWA Golden Heart® finalist who lives (and writes!) by the mantra that food is love. She is thrilled to have collaborated on a Christmas anthology with Donna Kauffman and Kate Angell, titled , to kick off her Pine Mountain foodie series with Kensington this October. Her first full-length novel, Turn Up the Heat, will follow in February 2014. Kimberly resides in northern Virginia with her wildly patient husband and their three daughters.


Where you can find Kimberly:
GIVEAWAY: RULES 
Kimberly has generously offered an ebook copy of  to a lucky commenter!
To enter just leave a comment and answer Kimberly's questions:
What are some foods you find inherently sexy or indulgent? Do you think aphrodisiacs are science, or sensual? And for you writers, how can you work these themes into your work to put some shake in your bake? 
Giveaway is open worldwide and ends on 4 May 2013!