I am very happy to welcome back to Ex Libris Alex Hughes, who stops by today to celebrate the release of 
, the second novel in her dark and gritty urban fantasy series, the
Mindpsace Investigations series
.
I really enjoyed
Clean
, the 1st book in the series
, especially the narrator's sarcastic dry humour, so I'm very much looking forward to revisiting him and the other memorable secondary characters in 
. So please give a warm welcome to Alex, read on to see what she likes about the protagonist's no-nonsense boss and leave a comment to be entered to win yourself a copy of 
!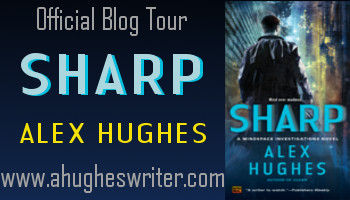 Five Things I Love About Paulsen, Adam's Boss
a blog post by Alex Hughes
1. She does things her way. DeKalb's future police force is a lot like our own, full of men who do things a certain way, mostly white men. Paulsen is a black woman in that world, and she has the courage to not only make her way within that world, but the strength to be an individual and let no one else define her. Paulsen will huff and puff all day if needed, play politics and be stern, but she's fair, and she's gentle when needed. She'll play kindergarten teacher all day if that gets those under her to do their best work. But don't think that means you can get away with anything. This is Paulsen's department, and she does things her way.
2. She has an open mind. In a world in which telepaths are the boogeyman under the bed, Paulsen has managed to not only give one a chance, but get him intimately involved in the details of cases. Furthermore, when that telepath shows up with a vision of the future--something she's never heard of before--or bucks the system, she listens. She still handles it her way, but she listens.
3. Paulsen cares about her people. She makes sure they get the job done with few resources and more than a few politics to face. But when it comes to her people's safety, she'll move heaven and Earth to make sure they have the best chance possible to come out alive. She's paid high costs repeatedly to make sure the good cops are taken care of in every way possible--and stays up late at night worrying about the latest budget cuts.
4. Paulsen doesn't tolerate mistakes. In this world, mistakes cost lives. Arriving late and deciding late is better than messing up, and she emphasizes over and over doing the job right to every person under her employ. If you make a mistake, she'll rub your nose in it like a puppy until you never do it again, but if you step out of line with information that seemed good at the time, she'll back you up all the way to the wall.
5. Paulsen gets the job done. With increasingly limited resources and crime going nuts in her territory, Paulsen gets creative to get the job done. She shares resources. She plays politics. And she'll back non-standard ideas and non-standard people (like one certain telepath) all day long--as long as they get the job done. But you weigh down the department with dead weight and sloppiness, and she'll kick you to the curb faster than your brain can catch up. No matter what it cost her or the hours she and her team have to put in, Paulsen makes sure the job gets done.

Book #2 in the Mindspace Investigations series




HISTORY HAS A WAY OF REPEATING ITSELF, EVEN FOR TELEPATHS…

As a Level Eight telepath, I am the best police interrogator in the department. But I'm not a cop—I never will be—and my only friend on the force, Homicide Detective Isabella Cherabino, is avoiding me because of a telepathic link I created by accident.

And I might not even be an interrogator for much longer. Our boss says unless I pull out a miracle, I'll be gone before Christmas. I need this job, damn it. It's the only thing keeping me sane.

Parts for illegal Tech—the same parts used to bring the world to its knees in the Tech Wars sixty years ago—are being hijacked all over the city. Plus Cherbino's longtime nemesis, a cop killer, has resurfaced with a vengeance. If I can stay alive long enough, I just might be able to prove my worth, once and for all...




Read my review of Book #1, Clean




Alex has written since early childhood, and loves great stories in any form including scifi, fantasy, and mystery. Over the years, she has lived in many neighborhoods of the sprawling metro Atlanta area, including Decatur, the neighborhood on which Clean is centered. Her work is dark, complex, action-filled and a little funny. Her Mindspace Investigations series has been called "A fun blend of Chinatown and Blade Runner" by James Knapp, and Publisher's Weekly called her "a writer to watch."

When not writing you can find Alex in the kitchen cooking gourmet Italian food, watching hours of police procedural dramas, and humming to delightfully obscure music.
GIVEAWAY RULES:
Alex has very generously offered a paperback copy of  to a lucky commenter!
Just leave a comment and tell us
 one thing you love about your current or ex boss. (or if there is nothing, then what one thing would you wish your boss did/was?)
Giveaway is open worldwide and ends on 27 April 2013!