I'm very happy to welcome back to Ex Libris 
Gina L. Maxwell
, who stops by today to tell you more about 
, the second book in her 
sexy 
Fighting for Love series
, 
which is all about breaking the rules and having fun. ;-) So tell us about some of the rules you have broken and you could win some terrific prizes! 
Why Rules are good to have and even better to break!
by Gina L. Maxwell
Don't go swimming for twenty minutes after you eat.
Don't mix beer and liquor.
Drink a glass of water first thing in the morning.
Never fall in love.
If you think about it, we have a great many rules in our lives that we adhere to regardless of whether we think about it or not. I know I always wait twenty minutes after eating before I go swimming again and I don't even think about it. I don't really drink much but I never mix beer with liquor just because. See, rules. We abide by them when we don't think about them. They are a major thread in the fabric of our lives and the thought process is that we should never, ever pull on that thread. Now that whole drink a glass of water first thing in the morning deal? Not happening. When I wake up? Instant human, just add coffee. I'll drink water later, thank you very much.
But my need for intravenous java aside, there are people out there who, in addition to the unwritten life rules, develop their own personal sets. This can be a wonderful thing. Having a rule to always be on time, for instance, is an excellent way to make sure you are viewed as dependable. Or having a personal rule that you don't kiss until after the third date has worked for some people. Rules can be beneficial to people while trying to achieve success in their careers or their personal lives. Rules can help keep balance and ensure that order is always priority.
But what happens when we make rules that are just meant to be broken? What happens when the guidelines that we set for ourselves help us achieve our goals, but push people away? Never fall in love.
Vanessa thought that too. The rules she lived by ensured that she was successful at what she did and her life was neat and orderly in every way. She had seven cardinal rules by which life needed to be lived. Funny how she meets Chief among the Rule-breakers Jax and he has exactly seven days to break them.
Never fall in love, Vanessa? I don't think so. Some rules were meant to be broken.



Book #2 in the Fighting for Love series




Seven days. And seven rules to break...

District Attorney Vanessa McGregor firmly believes that structure and order are the stuff that dreams are made of. Happiness can be planned - and it starts with seven rules she's laid out for her future. But as she's organizing her best friend's wedding in Hawaii, all of Vanessa's best-laid plans are about to meet their match in a wickedly hot MMA fighter...

Jackson "Jax" Maris is focused on surfing, training and fighting. That is, until he opens up his big mouth, and finds himself having to pretend he's engaged to his little sister's best friend, Vanessa. When they're force to share a romantic bungalow, however, their little charade suddenly takes a turn for the seriously sexy. And while Jax is definitely not part of Vanessa's long-term plan, he has seven days - and seven naughty nights - to turn her seven-rule plan upside down.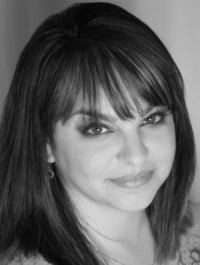 Growing up in small town Fort Atkinson, WI, Gina L. Maxwell, formerly Bisbee, could often be found onstage in the latest theatrical production, performing with her high school show choir, or holding office in her local FFA chapter. She dreamed of following in her father's footsteps in the entertainment business, of enabling her audience to forget about life for a few hours as they enjoyed the stories she told through her love of singing, dancing, and acting. It wasn't until her sophomore year in college when she realized she had no acting talent to speak of and her dream needed some adjusting. Another ten years would pass before she discovered a different means to accomplishing the same dream.
Within those ten years Gina married her high school sweetheart, had two beautiful children, and moved more times than she cared to count. In 2009 she started writing as a hobby while her kids were in school, and it quickly became an obsession she couldn't stop, and then a dream to publish stories of love and passion for romance addicts just like her.
Three years later, her dream came true when she signed with Entangled Publishing for a total of seven books in two of their imprints.
Her Fighting for Love series with MMA heroes debuted July 20th, 2012 for the digital Brazen imprint with the first book, , and reached #9 on Barnes & Noble's best seller list in just seven days.

The first book in her paranormal romance trilogy, Desires of the Soul, is set to release both digitally and in mass trade paperback in Summer 2013 for the Entangled Select imprint.
When she's not writing or wrangling plot bunnies, Gina keeps busy with her wonderful family and their ever-growing extra-curricular schedules. Thanks to their immense patience and support, she's able to do The Thing She Was Meant To Do and live her dream of bringing a little romantic fantasy to the world, even if only in the pages of a good book.
For more about Gina and her books find her at
her website
/
/
Goodreads / .
There are TWO giveaways:
Gina and Entangled Publishing have generously offered 
and
swag packs to two lucky commenter!
All you need to do is leave a comment and
tell us about a rule you have broken.
Giveaway is open worldwide and ends on 4 May 2013!
Good luck!
One lucky winner will receive a Kindle Fire HD or a $200 Amazon Gift Card!
To be entered just fill out the Rafflecopter form below:
a Rafflecopter giveaway