Interview with Jennifer Estep + Giveaway
Button made by the very talented Susi! Thank you!!
Today I am very happy to welcome back to the blog Jennifer Estep who is in full party mode, besides the blogoversary party she is also celebrating the release of , Book #6 of her Elemental Assassin series, which hit the shelves yesterday, woohoo! So everyone take a seat, here's your gin & tonic and read on as she answers all my impertinent and nosy questions. Oh and she's also giving away a copy (international readers are included in the giveaway, woohoo)!
Stella: Hi Jennifer, welcome back to Ex Libris! , Book #6 in your Elemental Assassin series was released yesterday, congratulations!! Can you tell readers what they can expect of this new instalment of Gin's adventures?
JE:
Thanks for the congrats and for hosting me on the blog again. I appreciate it!
Basically, in
, Gin decides to get out of Ashland for a few days to rest, relax, and recharge after what happened at the end of (and also in the e-novella). So Gin ends up going to a beach town, but her vacation isn't as relaxing as she hoped it would be, since one of Bria's friends is being threatened by a deadly vampire. Gin decides to help Bria's friend and finds herself facing down a powerful enemy yet again. There are also some scenes with Gin and Bria as they try to figure out where they go from here, and someone from Gin's past reappears as well.
Stella: You referred to as 'Gin on vacation' as a working title. I personally have to tell you how happy I am to finally get to read a vacation novel! I always wanted my favourite characters (be it fictional or TV characters) to have some vacation fun and for us the audience to witness how they would spend their time away from real life, so thank you I am very excited to accompany Gin on hers! :-)
How was writing a vacation novel different? (not having the same locations, even having to do without some of the supporting cast, etc.) Was it different?
JE:
It was a little different. Like you said, I had to come up with some different locations and set pieces for the action to take place in, and not all of the secondary characters appear in the book. But I thought it would be good place in the series to have a vacation book and sort of reboot the series a little at the same time now that the first main story arc with Mab is finished. But it's still a Gin book in the end, so there's lots of action, magic, and fight scenes.
Stella: You originally planned the Elemental Assassin series to consist of five books, having the big showdown ending the story arc of the first 5 books in . How difficult was it to continue the series after you brought the initial big mystery story line to resolution?
JE:
It wasn't too difficult. Gin might have had her big showdown with Mab, but that doesn't mean that Gin still won't have problems in the future. One of the things I wanted to explore with the next few books in the series is what happens after you finally defeat your nemesis. What are the consequences? What's the emotional fallout? Where do you go from there? So those are some of the things Gin will be going through and thinking about as the series continues.
Stella: Speaking of the big showdown, you must have planned it (at least had some ideas for it) since the beginning. Did you feel that as it was the BIG face-down battle between Gin and Mab this fight would have to surpass all the previous fights in the series? Was it challenging to choreography it? Did you have several versions, did it change much?
JE:
I thought about the big showdown quite a bit, and I really did want to go all-out with it and have it live up to reader expectations. I had done this big story arc with Gin and Mab, and I definitely wanted to deliver in the end (which I hope I did).
I enjoy writing fight scenes, so I was really looking forward to finally getting to the showdown. I had a lot of fun writing those scenes with Gin and Mab. They didn't change all that much, but I did spend some time tweaking them and trying to make them the best that I could. I hope folks had as much fun reading the showdown as I did writing it.
Stella: , Book #7 in the series will be released in August 2012, can you tell us about what will happen after? Will there be more books in the Elemental Assassin series or will you work on some new and still secret projects?
JE:
I'm happy to say that there will be at least three more books in the Elemental Assassin series after , and I'm looking forward to writing more of Gin's adventures.
I'm also busy writing my Mythos Academy young adult urban fantasy series right now, but I do have an idea for a new adult urban fantasy series so I'm hoping to find time to work on that sometime soon. We'll see how it goes.
Stella: How do you come up with the titles for your novels? All books in your Elemental Assassin series have a connection to spiders (which is incredibly cool!), is it instant inspiration, brainstorming with people who know the story, or research?
JE:
Originally, I had the idea of having the word "gin" in all the titles, like "Gin on the Rocks," "Bitter Gin," and that sort of thing. But someone (I can't remember if it was my editor or agent) suggested going with spider-themed titles instead, so that's what we did.
I keep a list of potential titles, and usually, my editor, my agent, and I look at those and do a lot of brainstorming about what the title of the next book will be. I think we've come up with some really cool titles so far, and I'm looking forward to working on the titles for the next books in the series.
Stella: I'm also curious about your covers: you are a favourite of the Cover Gods, your Elemental Assassin novels have some of the best and most beautiful UF covers, can you tell us how do your books get the cover they do? Do you have to put together a summary of the events of the book and the storyline and then later add details for the graphic team? Or how is it done behind the scenes?
JE:
Thanks! I like the covers a lot too. My editor will usually ask me for some input and what I think would make a good cover. So I usually end up sending my editor some information and descriptions of important scenes from the book, like the big fight scene at the end. Then, I'll get to see a preliminary version of the cover and make some suggestions on that.
So far, the covers have been designed by Tony Mauro, and I think he's done an excellent job of capturing Gin and the overall feel of the series.
Stella: Do you have to get "into the mood" to write about Gin's adventures and channel her? If yes how do you achieve that?
JE:
Like I said before, I enjoy writing fight scenes, so it's not too hard for me to get in the mood to write about Gin. I like dreaming up new villains for her to take on and figuring out how she'll use her wits and magic to defeat them.
Of course, there are days when I'd rather be relaxing, hanging out with my family, or whatever, but writing is a job, and you just have to make yourself sit down and do it sometimes. Writing and doing all the other things that go along with being an author is a lot of work, but I enjoy what I do, so that definitely helps motivate me.
Jennifer Garner as Gin

Stella: If the Elemental Assassin series were made into a series of movies who would be part of your dream cast? (I'm especially curious to know who you could picture as Finn :-p)
JE:
I think Jennifer Garner would make a good Gin, and I could see someone like Clive Owen or Daniel Craig (with dark hair) as Owen. For Finn, maybe someone like Hugh Jackman or Ryan Reynolds because they both have that dashing, devious, mischievous air that I think Finn does.

Hugh Jackman as Finn

Stella: If you had to characterize Donovan and Owen in a few words, which ones would you use for them? (I'm not asking for Finn because we all know we'd put sexy, flirty, charmer in the bunch :-p)
JE:
For Donovan, I would say dedicated, moral, and a little reserved with a clear idea of right and wrong. For Owen, I would say loyal and protective, with a good sense of humor and the knowledge that things aren't always black and white.
Stella: Speaking of Donovan, he is back on scene in . Can you tell your readers and all those Owen fans what's he doing back in the picture?
JE:
Well, Donovan basically broke up with Gin and left Ashland at the end of , the second book. But Gin runs into Donovan while she's on vacation, and he has a connection to Bria's friend that Gin is trying to help. So there are a lot of scenes with Gin, Donovan, and Owen, as Gin tries to figure some things out for herself about her relationships with both men.
Stella: Which are harder to write: fight scenes or love scenes?
JE:
I really like writing fight scenes, so I find love scenes harder to write. I always want the love scenes to be fun, sexy, and still have a big emotional punch and move the story forward, so it can be tough for me to balance all those things.
Stella: You also pen the Mythos Academy series which is a YA urban fantasy series. How is writing a YA series different from penning an adult one?
JE:
Well, my Mythos Academy series isn't quite as dark and gritty as my Elemental Assassin series. The heroine of the Mythos Academy books is seventeen, so she's still trying to figure out her magic, what her place in the world is, and what kind of person she wants to be. I would say I tell a little more of a coming-of-age story with the Mythos Academy series.
But the books still have a lot of the same elements as my Elemental Assassin series does – a strong, sassy heroine, magic, and lots of action/fight scenes.
Stella: Jennifer, what shall we expect from you, what is next on your schedule?
JE:
, the seventh Elemental Assassin book, will be out on Aug. 21. There will be at least three more books in the series after that.
, the third Mythos Academy book, will be out on May 29. There will be at least three more books in the series after that.
Folks can visit my website at
http://www.jenniferestep.com/
for more information and excerpts. Happy reading, everyone!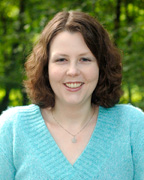 Jennifer Estep is a New York Times bestselling author, prowling the streets of her imagination in search of her next fantasy idea.

Jennifer writes the Elemental Assassin adulr urban fantasy series, the Mythos Academy series (urban fantasy series for young adults) as well as the Bigtime series, a tongue in cheek funny superhero paranormal romance series.
GIVEAWAY RULES:
Jennifer has generously offered a paperback copy of  to a lucky commentator!
To be entered all you have to do is:
1.
fill out the main form
so I have your contact info (
just once
, if you have already filled it out for a previous giveaway that's enough)
2. leave a comment and tell us: 
If you know and read the Elemental Assassin series, what do you like the most about it?
(the breakneck action? the humour? the worlbuilding?) And if it's a series you haven't read yet,
why would you want to read a series about an assassin?
Giveaway is open worldwide and ends on 15 March 2012.