Please give a warm welcome to
Jennifer Apodaca
, whose Entangled debut novel 
, the first in her Once a Marine heart-warming and steamy new series was released recently in Entangled's Indulgence line (and since then became a bestseller!). 
 features the "Secret Baby" trope, a trope that divides readers: they either love it or hate it, so I was curious to know why Jennifer chose it and what are the reasons in her opinion for such extreme reactions. So read on to see the results of Jennifer's survey and share your pinion for the chance to win a $50 USD Amazon gift card! 
The Secret Baby Plot
by Jennifer Apodaca
When I decided to write a book featuring a battle hardened former Marine who didn't think he was capable of love, I knew I had to find the quickest way to cut through a tough alpha man's defenses, and came up with a secret baby plot. Children reach deep into our primitive side and invoke a need to protect and nurture. I knew this plot would help Adam, the hero of , deal with his deep pain and find his ability to love.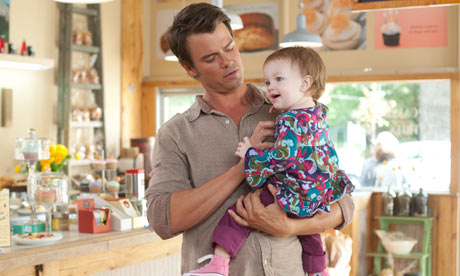 After I made that decision, I quickly discovered that people love and hate secret baby plots. I did a little survey of a few readers on my FB and Twitter pages, and here's what I discovered.
Why readers love them:
1) A baby raises the stakes in the plot. It's not just the hero and heroine's future at stake but a child's as well. That adds emotional depth and tension.
2) There's a curiosity factor involved. In , the story opens when the child is two years old. So readers are left wondering, what happened? How did the hero and heroine care about each other enough to create a child, then the heroine decided not to tell her the hero? It leaves readers wondering why? And how do these two overcome something that big to find their happily ever after?
3) Second chances. A secret baby story is an opportunity for two people who cared about each other in the past get a second chance at love.
4) Readers love seeing an alpha man, a man who is often used to command and control, thrown the curve ball of a child. And one they didn't know about? That's going to set off a few fireworks. It's both fun and emotional to watch the tough guy melt for his child. (And the child's mother!)
5) A man with a baby is sexy on a whole new level for a lot of women. As you can see in this quick clip from
, Megan is stunned by Adam strolling in and sweeping their son into his arms. She sees a whole new side of the man she thought she knew:
"Cole, leave the dog food alone." Megan set down her untouched coffee and headed for the boy. He'd scooped up a handful of the dry food and was lifting it to his mouth.

She hurried across kitchen, knowing she'd be fishing it out of his mouth. Again.

"Cole," she warned at the exact instant Adam entered the room. He scooped Cole up with one arm and caught his fist clutching the food in the other. "I don't think so, C-Man."

Cole's eyes widened. He stared at Adam in surprise.

Megan halted halfway across the kitchen. Seeing Cole in Adam's arms…it made her chest ache with the beauty of it. Adam wore only low slung sweatpants, and his chest and arms were bare. That alone was a pretty amazing sight. But holding their two year old son…

Adam squatted down. "Put the dog food back."

Cole opened his hand, letting the kibble fall back into Ellie's bowl.

Adam smiled and stood. "There's your mom." His gaze locked onto hers. "Does he eat anything besides dog food?"

She couldn't think of an answer. Adam just looked so…hot. Mussed hair, stubbled jaw, heavy tawny-colored eyes, hoisting Cole around the kitchen. He opened the fridge and crinkled his nose in an exaggerated sneer. "Chick food."

"Chick food." Cole parroted, enjoying himself as he bounced in Cole's arms.

"Got any man food?"

Cole nodded. "Man food."

What happened to dark and pissed-off Adam? She knew this Adam—funny, charming, and sexy—but she hadn't seen that side of him since the fundraiser gala. "Man food would be food men search out and prepare." She gestured to the kitchen. "Have at it."

Adam grinned at Cole. "I believe we were just challenged. I don't suppose you know how to cook?"

Cole giggled.

Adam ruffled the boy's hair, then went back to the fridge and pulled out eggs and milk.
Those are some of the reasons readers love secret baby stories. But they aren't for everyone. I chatted with a few readers who didn't care for the troupe. Here is some of what they said:
1) The secret baby plot is based on a lie. Not only lie, but one that involves a child. In fact, that was something I was very conscious of while writing . For me it all comes down to what motivated the characters and their decisions. If they can see their mistake and do everything in their power to right it, then I'm able to forgive them. Some readers just don't want to go there, and I respect that.
2) Some readers aren't interested in a plot centered around a baby and the circumstances of the child's conception. That is truly a matter of taste and completely valid.
3) Not everyone wants children in their romance books at all. While some love it, others are looking for escape from their everyday life. Again, that's valid.
So that's pretty much the rundown of responses I got when I asked readers what they thought. Now I'd love to hear your opinion on secret baby plots.
Do you love them or skip them?
Award winning author Jennifer Apodaca grew up in Southern California and met her very own hero at the dog pound. She worked there, he came in on a business, and it was puppy love. They married and had three wonderful sons.
While her husband worked on his master's degree, Jen did the mom thing by day and went to college at night with the intention of perusing a marketing degree. But her true passion was writing. With time at a premium, she had to make a choice. 

Choosing writing, and with the full support of her husband, she poured herself into her dream. A mere eight years later, she published her first book DATING CAN BE MURDER. In her career, Jen has written a fun and sexy mystery series and a variety of contemporary romances. Taking the pen name of Jennifer Lyon, she also created a dark, sizzling paranormal series, and most recently, The Plus One Chronicles, an emotional and sexy adult contemporary series.

Jen has achieved many of her dreams except for attaining a self-cleaning house, a latte delivery service, and finding the holy grail of nonfattening wine and chocolate. She can live with those disappointments as long as she can keep writing the stories she loves to share with readers.

Connect with Jennifer at her
Website - Blog -  - Goodreads - 
 
Book #1 in the Once a Marine series



Seeing Adam Waters is the last thing veterinarian Megan Young expects. Ex-Marine. Ex-boyfriend. And still extremely dangerous territory. But Adam doesn't know the secret Megan has been keeping from him. The secret that was created three years ago, after their last night together...

Adam returns to Raven's Cove to sell his home in a final break with the town and memories that haunt him. The problem is that his attraction to Megan is as blazing hot as it ever was. But when a vicious smear campaign against Megan turns ugly, Adam learns the truth he never knew—he has a son.

Now the only way Megan can protect her child is to strike a bargain with Adam. And it's a bargain that looks a lot like blackmail...



GIVEAWAY RULES:
Jennifer is offering a $50 Amazon Gift Card to one lucky winner! Please fill out the Rafflecopter form below for your chance to be entered.
a Rafflecopter giveaway
Giveaway is open worldwide and ends on 23 April 2013!
Good Luck!