Today's guest pens 3 fantastic series, all of which are some of my favourite ones: she is the creator of the 
, the 
, and the beloved
, she is none other than
J
ennifer Estep
! Jennifer had an extra reason to celebrate this Christmas, since 
, the 4th novel in her Mythos Academy series was released on December 24th! Join us as we discuss holiday preparations and favourite Christmas treats, and you could even win a brand new copy of 
!
Stella: Hi Jennifer, Merry Christmas! It's my pleasure welcoming you to the Let It Snow Books event, thanks for coming by! So now that we are in the middle of the holidays, let's talk about what makes the holidays so special :-)
Jennifer:
Hi, Stella. Merry Christmas and Happy Holidays to you too! Thanks for hosting me on your blog. I appreciate it.
Stella: Is there anything special you usually do for the holidays? Any traditions?
Jennifer:
Well, it's a little late to talk about this one now, but I like to put my Christmas tree up on Thanksgiving morning while I'm watching the Macy's Thanksgiving Day Parade. That way, I can enjoy the tree all through the holiday season. Another tradition that I have is to listen to some holiday music while I'm wrapping presents. I think the music makes it more fun.
Stella: Do you have any favorite holiday themed stories (movies or books)?
Jennifer:
I like the old
that they show on TV every year. Also, it's not really holiday-themed, but I also enjoy watching
when it comes on TV around the holidays every year.
Stella: What's your favourite thing about the holidays?
Jennifer:
My favorite thing is spending time with family and friends. I also like finding a gift, especially if it's a book, that I think someone on my list will love.
Stella: What makes you feel that Christmas time is / the holidays are finally here? (For me it is smelling the mulled wine and roasting chestnuts at the Christmas fairs and seeing the lights being put up around town in November :-D)
Jennifer:
For me, it's eating my mom's turkey and dressing on Thanksgiving. That makes me feel like it's really the holiday season again.
Stella: Please complete: Christmas/the holidays wouldn't be the real deal without...
Jennifer:
Christmas carols.
Stella: Since this whole event is about the Best Books we read in 2012, could you tell us some of your favorite books you've read this year?
Jennifer:
Some of the books I've enjoyed this year include
,
, and
.
Stella: We all love Christmas holidays, but I was wondering if there's anything about them that you find annoying?
Jennifer:
I get a little annoyed when the stores start putting out Christmas stuff before Halloween. LOL. And I don't like fighting the crowds at the stores during the holiday shopping season.
Stella: Your Mythos Academy and Elemental Assassin characters are all participating in a Secret Santa, who got whom, and what did they give each other?
Jennifer:
Good question! In my
, I would say that my heroine, Gin Blanco, is getting a fancy, stylish cashmere sweater from her foster brother Finnegan Lane – something that wouldn't last very long since Gin moonlights as the assassin the Spider. That sweater would be ripped, torn, and ruined in the first fight that Gin got into.
In my
, I would say that Gwen and her Grandma Frost will continue their tradition of giving each other something snowflake-related as a joke about their last name being Frost. Gwen would probably get Grandma Frost some cookie cutters shaped like snowflakes, while Grandma Frost might get Gwen some glow-in-the-dark snowflakes to decorate her dorm room at Mythos Academy.
Stella: What is Gwen's favourite holiday dessert?
Jennifer:
Well, in the Mythos Academy books, Gwen's grandma likes to bake, and Gwen has a sweet tooth, so she probably likes just about everything that Grandma Frost makes. LOL. But if Gwen had to pick one, I would say a chocolate cake fresh out of the oven.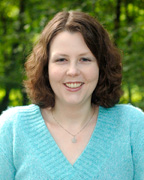 Jennifer Estep is a New York Times bestselling author, prowling the streets of her imagination in search of her next fantasy idea.

Jennifer writes the Elemental Assassin adult urban fantasy series, the Mythos Academy series (urban fantasy series for young adults) as well as the Bigtime series, a tongue in cheek funny superhero paranormal romance series.
To learn more about Jennifer and her books find her at



Book #4 in the Mythos Academy series


For a moment, a face flashed before my eyes—the most hideous face I'd ever seen. No matter how hard I tried to forget what had happened, I saw him everywhere I went. It was Loki—the evil god that I'd helped set free against my will.

I should have known that my first official date with Logan Quinn was destined to end in disaster. If we'd gotten into a swordfight, or been ambushed by Reapers, I'd have been more prepared. But getting arrested mid-sip at the local coffee hangout? I didn't see that one coming.

I've been accused of purposely helping the Reapers free Loki from his prison—and the person leading the charge against me is Linus Quinn, Logan's dad. The worst part is that pretty much everyone at Mythos Academy thinks I'm guilty. If I'm going to get out of this mess alive, I'll have to do it myself...
GIVEAWAY RULES:
Jennifer has very generously offered a print copy of  to a lucky commenter!
a Rafflecopter giveaway
Giveaway is open worldwide and ends on 5 January 2013!
Good luck!