Today is the last day of our Let It Snow Books 2012 Event and I hope you enjoyed getting to know more about how some of our favourite authors and their characters spend the holidays. But before we say farewell I would like to welcome our last guest to end the event with a bang, please give the warmest welcome to the lovely
Nadia Lee
, author of some wonderful fantasy romances, contemporary romances and magical romances! Nadia brings us a special treat: the whole main cast of her
! :-D So read on, enjoy getting a glimpse of how the Beast and the Wicked Witch celebrated Christmas this year and you could even win a great novel! ;-)
How Nadia Lee's Ever-After Cast Celebrated Christmas
Hello, everyone! Nadia Lee here; thanks for having me. Today I want to share with you how my fairy tale characters from
celebrated their Christmas this year, since they're all in the same room for once! :) Fairy Godmother?
Oh my goodness, let me see... I was invited to twenty royal balls on Christmas, but had to decline all but two because I can only go to so many parties. Even I can't be in two places at once! But to show how sorry I was to make my excuses, I sent just the cutest charms -- they're the color of robin's eggs -- to everyone. They will protect the wearers from one minor hex. (lowers voice) My sister can be a bit prissy about not getting invited, and you know how unpopular she is...
(in a very loud voice) I heard that! (turns to me) God, she's such a snotty *******. Anyway, my Christmas was quite fun. I crashed a party as usual and cursed a few people. It was just brilliant, how I did it. Whatever their lips touch becomes stone! No kissing, no eating, no drinking. Then afterwards, I went to Edward's little party, because he remembered to invite me!
(in a stage whisper) I had to invite her. Melinda might be with child, and I didn't want to earn my aunts enmity. You know how she can be. (in a normal voice) Yes, I do so love a family party. It was just me, my consort Melinda and my dear aunt the Wicked Witch. We ate a honey-glazed ham, and had apple and peach pies for dessert.
Oh yes, Edward does like his desserts. Thankfully he has a great metabolism. (turns to a handsome man next to her) How was your holiday, Prince Robert?
Superb in all respects. We held the official engagement ceremony on Christmas Eve. We were supremely honored to have the Wicked Witch -- er, that is, my godmother -- come and join us.
Very true. She gave us an intriguing talisman. It's black and round and has strange symbols girdling the edge... (lowers voice) I'm not sure what it does though.
It's a get-out-of-jail-free talisman. In case you ever forget to invite me to a party. Got it?
Ah! Of course! Not that that would ever happen, haha. (turns to me) In any case, the ceremony was ever so grand. (dreamy sigh) The line of people who came to congratulate us...! But most importantly, our love hasn't faded at all. I confess I was a bit worried that Robert might change his mind once his elation over the broken curse faded.
My dear, I swore to you my love would never diminish. And how did you celebrate your Christmas, Nadia?
We had a small family dinner with a home-cooked roasted chicken, mashed potatoes and cake. Then we exchanged gifts. Our infant son was very happy with his new toys and books. Thanks for asking.
And you didn't invite meeeeeeeeeeee??
Me
Oh gosh, look at the time. I've imposed on you all too much. (hastily gets up) Bye bye! I have to go pick up my son from daycare before it closes! I'll see you guys later...
====
Whew! Looks like I barely managed to escape the Wicked Witch's wrath. :)
Share how you celebrate holidays this year
for a chance to win a free copy of either  or 
 (your choice!).
Thanks, and have a spectacular holiday season!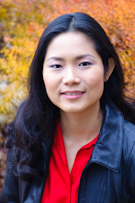 Bilingual former management consultant Nadia Lee has lived in four different countries and enjoyed many adventures and excellent food around the globe. In the last eight years, she has kissed stingrays, been bitten by a shark, ridden an elephant and petted tigers.
She shares an apartment overlooking a river and palm trees in Japan with her husband, baby boy, winter white hamsters and an ever-widening pile of books. When she's not writing, she can be found digging through old Asian historical texts or planning another trip.
Connect with Nadia at:


Melinda Lightfoot, a preschool teacher with an unusual ability to flit in and out of fairy tales, never thought she would get into trouble...

...until the Fairy Tale Police arrest her while she is in Beauty and the Beast. They offer her a deal: Find Beauty, who left the story when Melinda trespassed into it, or be charged with the ultimate crime -- Fairy Tale Killer. If that's not bad enough the Beast tags along in search of his true love, and Melinda starts falling for the fairy tale prince. She must choose between doing the right thing and having her own happily ever after.

Warning: This title contains the following: Fairy Godmother, the Wicked Witch, dysfunctional fairy tale families, ax-wielding executioners and a happily ever after (or two).



Read my review







HE IS A LEGEND...

Robert is a royal prince cursed into his current predicament: remain a frog until he can get someone to kiss him...willingly. After years of searching, he finally finds a suitable royal princess.

SHE IS BUT A HUMBLE MAID...

Practical maid to the royal princess, Molly promises to help Robert in return for gold enough to fund her retirement. She doesn't want to waste her youth waiting on someone as capricious and shallow as the princess, instead of living her life.

BUT LOVE KNOWS NO BOUNDARIES...

Unexpected problems unravel Robert's plan. The princess thinks frogs are disgusting, and his evil cousin shows up to steal both the princess and the throne that rightfully belongs to Robert. To compound matters, all he can think about is the quick-witted Molly.

But to undo the curse and inherit the throne, Robert must have a kiss from a royal princess and marry her.

What's a cursed prince to do?

Based on THE FROG PRINCE.

Warning: This title contains the following: Fairy Godmother, a killer punt, porcupines of evil, the Wicked Witch's justice and a happily ever after (or two).



GIVEAWAY RULES:
Nadia has generously offered a copy of either  or  (winner's choice) to a lucky commenter!
a Rafflecopter giveaway
Giveaway is open worldwide and ends on 5 January 2013!
Good luck!