I love reading about passionate hot blooded Italian heroes and when that is combined with a boss-employee romance I'm a goner. So please join me in giving a warm welcome to the lovely 
Karen Erickson
, who is celebrating the release of
, the first book in her brand new
The Renaldis series
about how three very hot Italian brothers find love! In today's post Karen shares with us an exclusive, never before seen excerpt of Book #2,
Kidnapping His Bride
and by leaving a comment you could win yourself a copy of
!
*Thank you Stella for having me as a guest on your blog today!*
I'm so excited to be writing my new series,
The Renaldis
. Linked to my
Worth It series
, these books are fun, glamorous stories set in exotic locations. With alpha heroes and the women who make these strong men fall madly in love with them.
The series kicked off with my free novella . Matteo and Paige's story continues in my most recent release, the USA Today bestselling book (squee!) .
I'm excited to share with you an exclusive excerpt from with you today. I'm also super excited to share a never before seen excerpt from the second book in the series,
KIDNAPPING HIS BRIDE
, which comes out October 22nd!


Business? Meet pleasure…

The Renaldis, Book #1

Paige Stewart has committed the ultimate nanny sin—she's fallen in love with her boss. She adores Matteo Renaldi's sweet, precocious son. Who wouldn't? But it's torture going about her day-to-day tasks, catching fleeting glimpses of the boy's enigmatic father. Chastising herself for fantasizing she's in the Renaldi master bed…

It's ridiculous, pointless. After all, soon little Matty won't need her anymore and she'll move on.
Matteo has no interest in dating. He's consumed by work, his son…and his son's nanny. She's everything he's not: young, carefree, trusting, maybe a little naïve. She deserves better than an embittered widower. Yet when she accidentally falls into his arms, he can't resist drawing her in for a kiss that quickly spirals out of control.

As they travel to his family's home in Italy and slowly fall in love, the whispers start. And when one particularly ugly story blows up in their faces, their reputations might escape unscathed, but their hearts may not…


exclusive excerpt:

How he wished he could give it all to her. Everything she could ever want. She was young and vulnerable and a believer in fairytales and he absolutely was not.

At this very moment, he wished he were a believer. So he could give this beautiful, sweet woman everything she ever dreamed of.

"Come here," he said gruffly, reaching for her so he could pull her into his arms. She sobbed against his chest, her tears dampening his shirt, and he let her cry. Running his hand over her silky-soft hair, breathing in her intoxicating scent, he remained silent, offering her comfort, wishing again he could give her more.

"You drive me crazy," she mumbled against his chest. "I should hate you."
"You should," he agreed.

"I shouldn't go with you."

"No, that's where you're wrong, bella." He slipped his finger beneath her chin and tilted her face up, staring into her beautiful, shining with tears eyes. "You absolutely should go with me."

"Why?" she breathed, closing her eyes, as if she couldn't look at him any longer.

"Open your eyes," he commanded. She did so quickly, pleasing him at how easily she obeyed. "Because I want you, Paige. I want you there, at my side, with my son, with my family. Please."

His chest ached. He shouldn't have said that. His words would give her a false hope he had no business offering her. But it was all true. Having her with him in Italy, in the country of his birth, at his childhood home, perhaps something could happen.
Perhaps he could relax and let her in.

Completely.


Kidnapping His Bride by Karen Erickson

Catch her if you can…

The Renaldis, Book #2

Rafael Renaldi is a modern man with an old-fashioned secret—an arranged marriage. Though it was an informal agreement, made when they were children, Rafe has always been a little in love with the beautiful, passionate Catalina Campioni. And assumed that the single, searing kiss they shared years ago sealed the deal.

Marriage? Babies? Not now—not yet. After growing up witnessing her mother's devastation over her father's cheating, Cat has no intention of settling down anytime soon. She plans to live life to the fullest before marching down the aisle—and it definitely won't be with womanizing, lethally charming Rafe.

When Rafe realizes his bride-to-be wants nothing to do with him, he does what a crazed man might do—he kidnaps her. But not to force her to the altar. She wants adventure? He'll show her adventure, and show her life with him will never be dull.

But even as they fall in love, someone close is desperate to keep them apart and will do whatever it takes to ensure they won't marry. Anyone. Ever…
Kidnapping His Bride excerpt (first time ANY excerpt from this book is shared!):

The dream felt enticingly real. Big hands rested on either side of her head, flattening her pillow, and she turned, felt the sting of her hair pulling against her scalp. He had her pinned, his fingers in her hair, his body pressing closer, closer…

Cat's eyes flew open and saw the man—a very real man hovering above her in the darkness. She couldn't make out his face, had no idea who it was and she parted her lips, her lungs seemingly frozen since no sound came out.

But she recognized the scent of him, the feel of him…

"Rafael?" Her voice squeaked, disbelief filling her and she struggled against him. "Wh—what are you doing?" she asked, her voice rising.

"Sshh." He rested his finger against her lips, silencing her. "I don't want to wake anyone in the house."

Of course he didn't. Talk about causing a scandal. "Why are you here?" she whispered fiercely.

Could she admit that it gave her a thrill, having him somehow sneak into her room, sitting with her on her bed? Yes, she'd split with him. Yes, she didn't want to marry him.

But there was something extremely exciting about having a man in her bedroom in the dead of night. A man she'd imagined in her bed more than once.

"I couldn't stop thinking about you." His voice was soft, his touch softer as he drifted his fingers through her hair.

"How did you get in?" Her bedroom was on the second story. Yes, she had her window open, but had he actually scaled the wall?

"I have my ways." Her eyes had adjusted to the darkness and she could make out the flash of white teeth when he smiled. Her heart tripped over itself at first sight of his wicked grin, her breath stalling in her throat, and she swallowed hard.
His answer was proof enough that he'd done something so extremely reckless as scale the wall of her family's home just so he could slip inside her room. Was he crazy?

He had to be. He also needed to leave. If they were caught together in her room in the middle of the night, her mother would freak. Her sister would demand retribution. And her father would most likely force her to marry Rafe. She couldn't have that.

Cat frowned. Had he come here on purpose? To force her hand into marriage? God, she hoped not. She thought less of him enough already. She didn't want to believe he would be so purposely cruel as to trick her and her family like this.

"You should leave," she said, her voice firm as she tried to sit up. But he pressed his hand against her shoulder, holding her firm and she had no choice but to lie there and wait for his next move.

Damn him and his masculine strength.

"I'm not going anywhere," he murmured, his deep, sensual voice rippling along her nerve endings. He sounded dangerous, dark and mysterious. Leaning in, his face was in hers, his warm breath wafting across her lips, making her tremble. "Did you really think I would let you go so easily?"
Bestselling romance author Karen Erickson writes what she loves to read — sexy contemporary romance and sensual historical romance. Digitally published since 2006, she currently writes for Samhain Publishing and Carina Press. A native Californian, she lives in the foothills below Yosemite with her husband and three children.
Where you can find Karen:
GIVEAWAY: RULES 
Karen has generously offered an ebook copy of , the first book in
The Renaldis series
to a lucky commenter!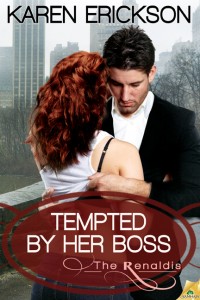 To enter just leave a comment and
tell us: do you like foreigner heroes? What kind/nationality is your favourite: a Greek magnate? An Italian playboy? A British aristocrate? A French artist? Or someone else?
Giveaway is open worldwide and ends on 9 August 2013!