Today I have another guest to welcome, who is none other than beloved historical romance author Robyn DeHart, who is celebrating the release of her latest book and first Entangled novel: 
, which is the first in her brand new Forbidden Love HR series. I was curious as to the quite unusual heroine of 
so I asked Robyn about her. Read on and you could win a copy of the book
!
The Creation of an intriguing and very unique heroine
Stella: Vivian, the heroine of 
 sounds like a 
very different kind of heroine, she "moves through every circle within Society,
smoothing out scandals and stopping gossip in its tracks. Everyone in
London knows that if she aligns herself with you, Society will forgive you
your sins." and her special talent is up for hire, almost like a Regency
 superhero against the Ton :-) 
I'm curious to know, what inspired her and her very original
occupation? Was there any historical background to her, I mean was there
 maybe a similar historical figure you read about?

Robyn DeHart:
So far everyone seems so fascinated by the concept of The Paragon and that's so cool. Admittedly it's what drew me in for this idea. I got a snippet of dialogue in my mind: "My name is Vivian March and I'm The Paragon." I was so intrigued. Immediately questions bubbled to the surface. Why was she called that? Did she give herself the moniker? Was she truly a paragon or was it a mask? And how does one get into such a profession?
I started tinkering with the idea, playing with answers to those questions and she sparked to life. I never found anything historical that would suggest there were any real "paragons" out there. But I suspect when you're dealing with the monarchy there have been plenty of people who have done similar things for the royal family. I mean how many scandals have occurred in the royal family? Tons when you think about the history of England – there had to have been some people that worked to hide some of those scandals under the rug.
Then the fun part started, I got to come up with the perfect man for her. I always ask myself one question when I start this…who is the worst man for her? This question isn't what you'd think, it's not about finding someone who is actually bad for her, the trick is to find the one man who can push her to deal with her emotional junk so that she's willing to go for that happily ever after. In Vivian's case, she's spent her entire adult life hiding a secret, she's built her life around, her career. That secret is what defines her – at least that's what she thinks. Meeting and falling in love with Marcus is what gives her the courage to face that secret and deal with it. And then you get the ultimate reward, that happily ever after!
Do you like to read about characters that have unique jobs or hobbies?
Thanks for having me today.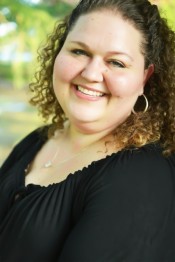 I'm one of those writers who always knew that she wanted to be a writer. It took me a while, however, to figure out precisely what I wanted to write. Reading Kathleen Woodiwiss' "A Rose in Winter" sealed the deal for me and I've been reading and writing romance ever since. I should have known I was destined for this when my Barbies insisted on hosting elaborate masquerade parties, complete with stolen kisses in the moonlight.

I've published seven historicals, all of which have received great reviews and a handful of them have won awards. I love to hear from readers, so feel free to send me an email or you can find me online at The Sisterhood of the Jaunty Quills, or, Peanut Butter on the Keyboard, my newest blogging endeavor that's all about writing moms or moms who write. You can also find me on 


Book #1 in the Forbidden Love series

Marcus Kincaid has returned to England after a ten-year absence. His older brother died during that time, making Marcus the Earl of Ashford. Not only that, his younger sister is embroiled in a potential scandal that could ruin her chance at marriage. His aunt has already called in reinforcements—The Paragon.

Vivian March is known simply as The Paragon. She moves through every circle within Society, smoothing out scandals and stopping gossip in its tracks. Everyone in London knows that if she aligns herself with you, Society will forgive you your sins. What they don't know is that she uses their secrets to cover her own jaded past.

But with every kiss and every touch that Marcus thrusts upon her, Vivian comes to believe life is infinitely more fun when you can be just a little bit wicked…