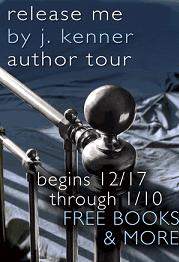 Today I would like to welcome to Ex Libris
J. Kenner
, who is on a blog tour celebrating the relese of her sensational erotic romance novel 
, the first book in her new Stark trilogy! Please give Julie a warm welcome and answer her question to be entered to win a copy of 
!
Who do you see?
by J. Kenner
First of all, I'm so glad to be here on today's stop on the  blog tour! The book came out on January 1, and I've been so thrilled by the wonderful response from readers. Thank you to everyone who has emailed me or posted on or taken the time to write and post a review online. Your support means the world!
Speaking of Facebook, we've been having a little discussion over on my Page about what Damien Stark, the hero of   looks like and that discussion has made me think a bit about how readers and writers all see characters differently.
Ian Somerhalder as Damien
As a writer, I don't have a certain actor or actress in mind when I write a character (though I know that some writers do). So when folks ask me what they look like, I have to go searching for a celebrity picture that came closest to what was in my head. For Damien, I'm all about Ian Somerhalder for Damien in case you're wondering.
If  were a movie, I would be in heaven if he were cast. (But I have a feeling he's going to be playing another billionaire! Mr. Grey, anyone?)
William Levy as Damien
Other folks suggested William Levy, and I must say that he would definitely fit the role.
But what I've found truly interesting is how some readers, myself included, see what they want to see. E.L. James can say over and over that Christian Grey has copper-colored hair, but in my head his hair is dark. On my Page, someone thought Damien was a blond; she obviously had a picture of him in her head that wasn't going to change despite the description in the book.
I'm that way—I get a picture of a character in my head, and no matter how many times the author says that the character has a certain feature or hair or eye color, I simply will not see it!
I think that's part of the reading experience, frankly. It's a much more intimate form of entertainment than watching a film because the reader puts so much of themselves into a book. It's one of the reasons that reading is such a pleasure—because we, as readers, become so deeply involved in the story and in the lives of the characters that we come to love!
How about you? Do you "see" characters the way the author writes them or do you have your own interpretation. If you've read 
 (or an excerpt) who do you see as Damien and Nikki?
J. Kenner is the pen name of USA Today bestselling author Julie Kenner (who also writes as J.K. Beck).   an erotic romance, on sale in the U.S. and the U.K., and coming soon to over a dozen other countries.
About the author: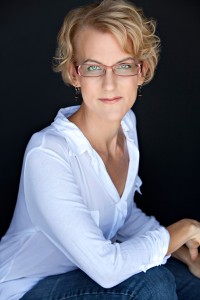 Praised by Publishers Weekly as an author with a "flair for dialogue and eccentric characterizations," bestselling author Julie Kenner's books have hit lists as varied as USA Today, Waldenbooks, Barnes & Noble, and Locus Magazine. Julie is also a two-time RITA finalist, the winner of Romantic Times' Reviewer's Choice Award for Best Contemporary Paranormal of 2001, the winner of the Reviewers International Organization's award for best romantic suspense of 2004 and best paranormal of 2005, and the winner of the National Readers' Choice Award for best mainstream book of 2005. She writes a range of stories including sexy and quirky romances, young adult novels, chick lit suspense and paranormal mommy lit. Her foray into the latter, , was selected as a Booksense Summer Paperback Pick for 2005, was a Target Breakout Book, was a Barnes & Noble Number One SFF/Fantasy bestseller for seven weeks, and is in development as a feature film with 1492 Pictures. Julie also writes dark and sexy paranormal romances as J.K. Beck and erotic romance as J. Kenner. Her first book as J. Kenner, , hit shelves on January a and has already pre-sold to over a dozen territories/sub-rights. Julie lives in Central Texas, with her husband, two daughters, and several cats.
You can hang out with J.K., learn more about 
 and her other novels, or just poke around and see what catches your eye at her website, and also at her e or .

Book #1 in the Stark trilogy


He was the one man I couldn't avoid. And the one man I couldn't resist.


Damien Stark could have his way with any woman. He was sexy, confident, and commanding: Anything he wanted, he got. And what he wanted was me.


Our attraction was unmistakable, almost beyond control, but as much as I ached to be his, I feared the pressures of his demands. Submitting to Damien meant I had to bare the darkest truth about my past—and risk breaking us apart.


But Damien was haunted, too. And as our passion came to obsess us both, his secrets threatened to destroy him—and us—forever.


Release Me is an erotic romance intended for mature audiences.


GIVEAWAY RULES:
Random House is generously offering a copy of
to a lucky commenter!
To be entered just leave a comment answering Julie's question: 
Do you "see" characters the way the author writes them or do you have your own interpretation. If you've read 
 (or an excerpt) who do you see as Damien and Nikki?
Giveaway is only open to US residents and ends on 12 January 2013!
Good luck!