I am happy to welcome back to Ex Libris

Ophelia London

, who is celebrating the release of 
, the second book in her 
Perfect Kisses
contemporary romance series. Take a seat and get to know Mac and Rick and you could even win some great prizes! ;-)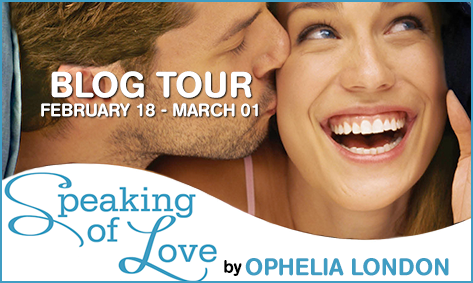 Stella: Hi Ophelia, welcome back to Ex Libris! :-) , the 2nd novel in your Perfect Kisses series was just released by Entangled Publishing, congratulations!! Could you tell readers a bit more about this series and how the books are connected?
Ophelia:
Thank you, Stella. I'm so happy to be back at your happy blog!  follows the relationship shenanigans of Mackenzie and Rick, who we met in the first book in the series,
. Mac was the best friend/supporting character in book one, but I had so much fun writing her that I knew she needed her own story.
Stella: How did the idea for the story, the series come to you? Any specific moment/event that sparked the inspiration for it that you could share with us?
Ophelia: 
Well, like I said, I loved Mac, and after I'd written a few chapter of the first book, I was already dreaming of Mac's story. I was visiting my sister in San Francisco and we were eating dinner at a restaurant that serves only mac and cheese (which isn't important to my story, but it was so amazingly delicious that I wanted to share!). We started brainstorming about what things could happen in book two and we came up with the "weekend getaway snowed in" storyline. After that, I couldn't wait to get started!
Stella: And more specifically, could you tell readers what they can expect of 
?
Ophelia: 
It's about matchmaking got haywire…in the best possible way. There's lots of banter, lots of laughs and lots of kissing. ;-)
Stella: Could you introduce Rick and Mackenzie, the hero and heroine of 
 to us?
Anna Chlumsky as Mac
Ophelia: 
Sure! Mac's got a huge personality crammed into a little body. Blonde hair, blue eyes. She wears glasses to make her look older. (Don't we all wish we had that problem?) If you were to ask Rick to describe Mac, he would probably say that she has the biggest, sexiest mouth. Rick is tall and dreamy. When he's working as a newspaperman, he favours tweed jackets and tousled hair. But when he puts on his tux for a night on the town, there isn't a hair out of place. By the end of the story, Mac learns to appreciate both…as long as she has a nice view of his butt.
Arnie Hammer as Rick
Stella: If 
 was made into a movie, who would be your perfect cast?
Ophelia: 
Yes! I love this question! Mackenzie is the Anna Chlumsky, the little girl from "
My Girl
" all grown up (now from "
30 Rock
" and "
Veep
"). Rick is Arnie Hammer. You'll remember him as the hunky actor who was man enough to play the hunky Winklevoss twins in "
The Social Network
."
Stella: Mackenzie is a speech teacher/therapist, is it something you knew a lot about before writing the book or did you have to do some research? Why did you choose this path/job for your heroine?
Ophelia:
I took speech classes in high school and college and was on the speech team. It was a huge part of my life back then and something that I always wanted to revisit. I knew that  was going to touch on the theme of communication—or more importantly, miscommunication—so I thought it would be interesting to give both Mac and Rick vocations in that field. It was a shock to Mac that she spent her 9-5 hours teaching proper communication, but when it came down to it, she couldn't seem to find the words to talk to the man she loved. I love sweet irony! :-D
Stella:
 is a friends to lovers story, one of my favourite tropes. Why did you choose it, what do you think makes it so appealing to readers? Any other tropes you are a fan of?
Ophelia: 
Yeah, it's probably my favourite trope right now, too. I don't know, maybe it's something about having someone so close to you that you're already comfortable with, enjoy being around and trust completely, and then the cherry on top is discovering that you're in love. I think that's a pretty powerful fantasy in itself.
I would love to write a fake fiancé or a marriage of convenience one of these days. Right now I'm working on a military trope with a little "brother's best friend" thrown in there.
Stella: Did you already know when writing 
, the first Perfect Kisses novel that it will be a series or was it something that took shape once 
 ended and the characters wouldn't leave you? How many more books are planned in the series?
Ophelia: 
It was kind of baby steps for me, since 
 was my first stab at writing category romance. After I sent the first few chapters to my editor, she loved it and we decided to contract for two books right then. So before I'd even written a synopsis for
, I was committed to writing the spin-off. But like I said earlier, I loved writing Mac and wanted her story to keep going. She deserved a happily ever after. And that military book I mentioned? That's book three. :-)
Stella: You have another novel recently released by Entangled Publishing, , can you tell us a bit more about it?
Ophelia: 
Oh,
. (Can you tell I'm smiling ear-to-ear right now?) It will be released on March 26th…one month from today!! It's the story about Abby, a kind of Gwen Stefani-ish rock star who runs away to a secluded beach in Florida to take a break from her crazy life and deal with some personal demons. On her second day of R&R, she meets Todd, the owner of a surf shop and the most wickedly-delicious guys she's ever seen. But she's only got three months until duty calls her back to LA. Can Abby find room in her insanely jam-packed life for a career and something normal like love, all while staying number one on the charts? Think No Doubt meets "Notting Hill"…but it a good way. :-)
Stella: Could you please summarize 
 for us Twitter-style (in 140 characters or less)?
Ophelia: 
Only after successful matchmaker Mackenzie sets up sexy rich-boy-Rick with another woman, does she realize he is her perfect match. #swoon
Stella: Can you share with us some little secret trivia connected to the writing of 
 (a scene/character that did not end up in the final version, a real person inspiring a character, scene, etc.)?
Ophelia: 
I wrote three different endings to the story. The version that made it past all the final edits is the one I wrote an hour before turning it in to my editor. I really liked the other last chapters, however…especially the one that ended with us at Rick's apartment. Hee-hee
Stella: What shall we expect from you, what is next on your schedule?
Ophelia: 
hits shelves (both literal and virtual) on March 26th (squee!) and hopefully book three of
Perfect Kisses
will be coming out sometime in late 2013.
Stella: Can you share with us some little secret trivia, something that not many people know about you?
Ophelia: 
I love classic movies and classic television shows. But I've always loathed "
I Love Lucy
." Can't STAND it. And it's pretty much an American staple of classic TV. I also don't care for "
The Wizard of Oz
." Dorothy has always bugged me. I do love the Tin Man, however. There's just something about a man who wants so much to love that he'll face an evil witch to get a heart!
Ophelia London was born and raised among the redwood trees in beautiful northern California. Once she was fully educated, she decided to settle in Florida, but her car broke down in Texas and she's lived in Dallas ever since. A cupcake and treadmill aficionado (obviously those things are connected), she spends her time watching arthouse movies and impossibly trashy TV, while living vicariously through the characters in the books she writes. Ophelia is the author of , and . Visit her at . But don't call when The Vampire Diaries is on.

Book #2 in the Perfect Kisses series




Speech teacher and successful matchmaker Mackenzie Simms decides to find a woman for her friend, handsome newspaper tycoon Rick Duffy. Though they've been each other's go-to dates for the past month, Mac and Rick couldn't be more different: she is outspoken, sarcastic, and completely loathes his privileged lifestyle. He's laid-back, unassuming, and seems comfortable at an upper-class function. So why can't she stop thinking about him?

Rick knows he and the opinionated-though-adorable Mackenzie are better off as friends, so he agrees to the double-date getaway Mac plans at his family cabin. But seeing Mac cuddle up with her "friendly" date rankles Rick beyond reason, and Mac regrets her matchmaking scheme the minute she sees the way her beauty-queen cousin looks at Rick. Can Mac 'fess up to what's really in her heart, when speaking her mind puts everything at risk?



GIVEAWAY RULES:
Ophelia is hosting a big giveaway to celebrate the release of , to be entered just fill out the Rafflecopter form below:
a Rafflecopter giveaway
Giveaway is open worldwide and ends on 2 March 2013!
Good Luck!