Please give a warm welcome to
Kathryn Barrett
, whose Entangled debut novel 
 instantly piqued my interest as soon as I read its blurb: a modern woman discovering life and finding love in an Amish setting, count me in! So when I got to ask Kathryn about the novel what I was most curious about and wanted to know was why she chose not only to have an Amish setting but also have an Amish hero. Didn't she fear it would be challenging to make him a hero readers could connect with and fall for? What were the differences, challenges of this unusual setup? Did she have any personal experience or did she research how these communities live and work? And these were just a few of my questions ;-) lol So please give the warmest welcome to Kathryn, read on and enter the fantastic giveaways at the end!
Thanks for having me here at Ex Libris, Stella! I love talking about my characters, so thanks for giving me the opportunity!
I know a lot of people are curious about why I decided to set a book in Amish country, and how Laura, the heroine of Temptation, fell in love with an Amish furniture maker.
It's a great question, and one I asked Laura myself! When Laura Hayes first appeared as a secondary character in another novel I was writing, I was intrigued. She seemed like a fun person to hang out with, and I wondered who she might end up with. So I closed my eyes and let her have full rein in my imagination.
I was surprised at what happened—but looking back, I shouldn't have been.
That previous book was set in Philadelphia, and when I went to Philly on a road trip to research the setting, I stopped in nearby Amish country, curious to see what it was about. I figured Laura might do the same. But I had no idea she'd fall for the one man she couldn't have—Jacob Hostetler, an Amish furniture maker. Yet it really made perfect sense, I realized as I delved deeper into their story.
Laura has been acting since she was an infant and is an internationally recognized celebrity. But Amish country is one place where no one knows her, where she's treated normally, not fawned over, or worse, used the way so many of her friends, and even her mother, use her.
It's a refreshing change from what she's accustomed to, and she immediately appreciates the sense of common purpose she finds in Serenity. And with Jacob, she realizes she's met the one man who doesn't care about her salary or her connections, but unfortunately, he's very much determined to resist her.
He's the perfect foil for Laura, and as I got to know more about him, I discovered that he had his own goals—to make distinctive, artistic furniture, based on Amish "Plain" designs yet with an elegant, modern form. He dreams of building a house with soaring tongue-and-groove ceilings, tall windows that showcase the sky, and sleek cherry cabinets—a forbidden dream, just like his growing desire for Laura.
While researching the Amish culture and religion, I discovered that local bishops were able to interpret the Ordnung—the set of rules that govern everything from whether buttons are allowed to the size of a hat brim—as they saw fit for their congregations. So when I imagined Jacob without a beard, I figured his bishop had allowed him to remain clean-shaven after his wife died and he shaved his beard (required for married men) in a moment of anger.
Jacob is constantly testing the boundaries of the Amish faith. Despite his eighth grade education, he has sought out knowledge of higher math and physics in order to design his unique furniture. He rebels, quietly, in his own way, but he needs Laura to prompt him to finally face up to his deep discontentment with the Amish restrictions.
I visited Amish country in Ohio on a research trip, where I was able to go into several homes, meet Amish families, and even get a personal lesson in buggy driving—but not with all the sexual tension that happens during Laura's lesson! And the advice Laura receives at the quilting bee comes straight from my mother-in-law, a very accomplished quilter.
I've always been attracted to multi-dimensional characters, on TV, on screen, and in books. I think that's what intrigued me about Laura—the sense I had that she had several layers to her personality. Wanting to discover those layers, and find that one man who offered just enough resistance—and ultimately unconditional love—was what led me to write her story.
Which multi-dimensional characters do you love?
Mary from
Downton Abbey
is one of my favorites, as is Sylvia in
Parade's End
.
Any others I should know about?
Leave a comment and be eligible to win signed Temptation bookmarks!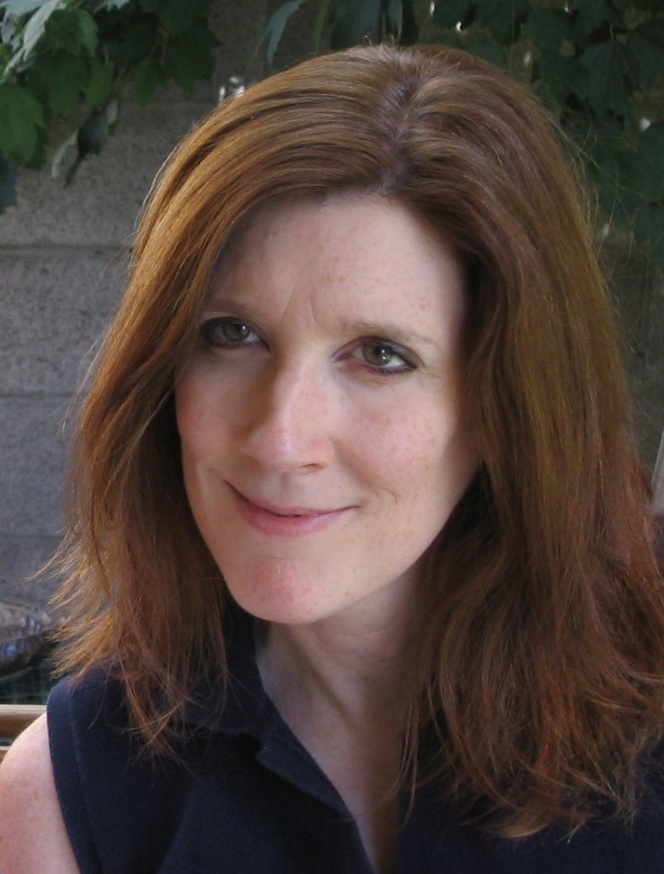 Kathryn Barrett has been writing women's fiction since the day her youngest daughter left for pre-school. All was going well, until she read a book called "30 Mistakes In Fiction Writing" and realized she was making all of them.

One by one, she's overcome the mistakes and learned to make a few more along the way. "The best way to learn to write is to write," she says. "Period."

Kathryn lives near London in the enchanting countryside of England. When she's not writing, she's busy training a rescue dog, tramping around archeological ruins, and occasionally making wine runs to France. Because nothing fuels the imagination like a good Bordeaux.

Connect with Kathryn at her Website -  - 



Laura Hayes has been acting since she was an infant, making Hollywood the only home she has ever known. But when she moves to Pennsylvania's Amish country to film her next movie, she discovers there's more to life than a pair of Jimmy Choos and a Marie Claire cover.

Intrigued by the Amish simplicity, she's soon gardening and baking plum pies—and enjoying it. And when her neighbor turns out to be the local heartthrob and a talented furniture maker, she realizes that what's missing from her life might be the love of a good man—not to mention the perfect heirloom tomato.

Jacob fights the urge to question the teachings of his Amish beliefs—despite his desire to create furniture that is beautiful as well as useful—and struggles with his longing for the sexy stranger who makes him feel truly alive for the first time. As his attraction grows, so do his doubts, until he's forced to face temptation and decide once and for all what is truly worth the fight.



GIVEAWAY RULES:
There are TWO giveaways!
Kathryn has generously offered signed 
bookmarks to a lucky commenter!
To be entered just leave a comment and answer Kathryn's question: 
Which multi-dimensional characters do you love?
Giveaway is open worldwide and ends on 15 March 2013!
Good Luck!
Grand Prize Giveaway
Kathryn is also giving away a Kindle Paperwhite at the end of the blog tour!
To be entered just fill out the Rafflecopter form below:
a Rafflecopter giveaway