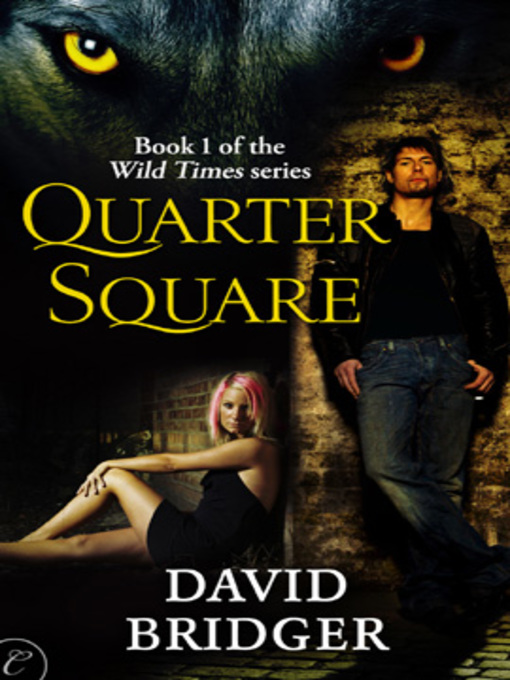 Title:
 Quarter Square
Author:
 David Bridger
Release date:
27 June 2011
Number of pages:
142 pages
Series:
Book #1 in the Wild Times series
Publisher:
Carina Press
Source:
review copy provided by publisher via NetGalley
Purchasing Info:
Goodreads
,
Author's Website
, ,
Carina Press
Grade: 4 stars
Novellus superbus!
Goodreads appetizer: English carpenter Joe Walker thinks his life is over when he discovers his wife and best friend having an affair. Restoring an abandoned theatre offers little hope for a fresh start...until he follows a group of strangers through a hidden door into a world he never could have imagined.

In the haven known as Quarter Square, Joe encounters a community of supernatural street performers who straddle the mortal world and the magic realm known as the Wild. Here, Joe finds a sense of belonging he's never known before—and a chance to uncover the truth behind the frightening visions that have haunted him since childhood. He also meets Min, an enchanting singer who quickly captures his heart.

But as Joe settles into Quarter Square, he learns their haven is under attack, while an ancient enemy threatens to tear him and Min apart. Now, Joe must learn to wield his own powers in order to save the life he's come to love...
Review originally posted at Book Lovers Inc.
My Thoughts:
Among the novels I usually read male authors are a rarity. So the single fact that
Quarter Square 
was written by a man was reason enough to pique my curiosity and make me want to read this novel.In the first part of the novel Joe (our protagonist) discovers a magic parallel universe which is accessible through the magic door in the century old theatre he's renovating and sleeping in. Through that hole in the wall one enters a Renaissance-fair-like magic version of Plymouth where dwarves dance and juggle, people sit around a bonfire and tell tales, others are singing, dancing having fun. A very colourful and enchanted alternate universe.
However, this haven is threatened by an evil who is after Joe, and the second part of the novel tells the story of Joe and Min (the heroine) being on the run and hiding from the evil werewolf with a neolite tribe, who live in huts in the desert, walk around barechested and loin-clothed.
What is interesting with
Quarter Square
, is that with this novel I felt the different parts of the novel (plot, writing, etc.) slide apart: I found the writing of great quality, it was lyrical and exquisite.
"I rolled onto my back, gave my scalp and beard a good scratch and tried to concentrate on the noises and the smell of dry centuries. I preferred them to the sound of my thoughts and the stink of betrayal."
It set the mood and described the scenes while entertaining all senses of the reader and definitely making use of the reader's imagination:
"The air - heavy with summer smells of beer and cigarette smoke, diesel oil from the harbour, food from every direction and a hundred different perfumes and aftershaves - tasted like life and made me feel like even more of an outsider."
What made me pick up
Quarter Square
- the fact that its author was a man - didn't let me down. The difference in logic, perception and handling of events was refreshing and authentic. It was wonderful climbing inside the mind of a man and seeing and understanding why he does what he does. It was interesting to see Joe's reasoning behind his hurt of discovering his wife having an affair with his best friend and that it was mostly the sense of betrayal which infuriated him: that he doesn't begrudge his best friend for falling in love with his wife but for lying to him and making him lose his best friend. Reading a story through a man's perspective is fun and liberating: a man narrator is blunter, doesn't overanalyze things (even though he spends a fair time on exploring his emotions it definitely does not come off as mushy), and remains more realistic.
Though I was constantly enchanted by David Bridger's writing style, I didn't connect that well with the plot. I enjoyed the first part of the novel and reading about the "gipsy" circus of the insiders, but from the moment Joe and Min got on the run I felt the story lost most of its colours. (Though I still remember with amazement the description of Joe blending in a tree and David Bridger's description of what it feels like to live and breathe as a tree does.)
Joe is a great character, an ordinary guy next door, and his story is fantastic exactly because of him being so normal. Unfortunately I remained lukewarm and at times even antagonistic towards the heroine, Min. I didn't find her fleshed out enough, and then when she got together with Joe - though I can understand with their background why - it still irritated me that she didn't consider Joe her equal but treated her most of the time almost as a child. When finally Joe couldn't take that anymore and erupted in quite a monologue I read it with great satisfaction. It was good to see him finally step up and assume the role of the responsible man in charge of his own destiny.
Verdict:
Quarter Square
is very different from the usual urban fantasy novels. I would say it is more on the fantasy side than urban. David Bridger is a very talented and promising new author whose next works I will definitely check out!
ps. I have to spend at least one sentence on the amazing cover. Not only does it look beautiful, it is very atmospheric and portrays the novel and characters wonderfully. A fantastic job, bravo!
And a short quote which gives you a taste of the book:
"Here's the thing. There's magic everywhere in the world. Always has been. But in most of the world it's unknown. People stopped using it, believing in it. (...) It seems that each culture and each generation rejects magic a bit more than the one before. Some cultures more than others, but the general trend is to ignore magic and eventually to forget it."
Well Quarter Square is a magic-preserving community then!
Plot: 8/10
Characters: 7/10
Writing: 9/10
Ending: 7/10
Cover: 10/10 - cover perfection! Looks stunning and suits the story wonderfully.
Buy it: