I am happy to participate in J.L. Bryan's The Haunted E-Book Tour and promoting J.L.'s latest release , and today is the day I can welcome J.L. to Ex Libris and have him tell us about ghosts. Who doesn't like a ghost story? So gather round, don't worry I will leave the lights on :-)
So read on, you will even have the possibility to win lots of goodies at the end!  
~~~~~~~~~~~~~~~~~~~~~~~~~~~~~~~~~~~~~~~~~~~~~~~~~~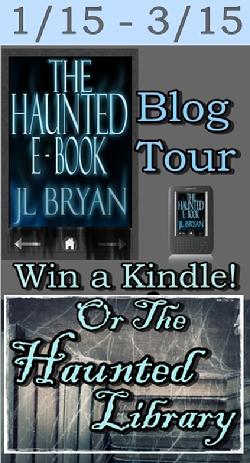 Where Do Old Ghosts Go?
by J.L. Bryan
Congratulations to Stella on her first blogiversary!
One of the oldest ghost stories is related by
Pliny the Younger
, an ancient Roman writer who tells of a house haunted by a restless, chain-dragging sort of ghost.
Clearly, the ancient house in question no longer exists—for all we know, there could be a McDonald's or a Holiday Inn on the spot today. Stories of ghosts from thousands of years ago bring an obvious question: What happens to ghosts when their favorite haunts are gone? If you're haunting a house or a ship that gets destroyed or decays away with time, where do you go from there?
I can imagine a few possibilities:
1. Stick around anyway. If they build a McDonald's on the site of your old house, haunt the McDonald's. This sounds like the easiest option, but it could be humiliating. If you're a ghost accustomed to the ambiance of a dark attic or a spider-infested crawlspace under the stairs, it's going to be pretty hard to spook people by burning the French fries or knocking an apple pie or two to the floor. There's no bedroom, so forget any spectral apparating over someone late at night, or invading their dreams to give them nightmares. The place is likely closed during peak haunting hours, anyway.
On the other hand, if it's an apartment building or a hotel that goes up, this could be a bonus for you—lots of people to spook in the middle of the night, whether you're whispering in their ears or make an appearance in the hallway, carrying your own head in one hand. Maybe this is like getting a ghostly promotion.
2. Pack up your sheets and move. You've always liked that big house at the end of the street anyway, haven't you? Why not haunt that place instead? You're a ghost. You don't have to come up with a down payment or a credit history. You won't even trip the burglar alarm. Go ahead—spend eternity in the place you always wanted.
3. Consider alternative venues. If your house is gone, where else did you spend a significant amount of your life? Maybe there's an amusement park or a bowling alley you could haunt instead. You could also haunt your workplace—but honestly, who wants to spend all eternity there?
4. Hit the road. You could just be a wandering ghost, perhaps one people glimpse along the highway when traveling alone late at night. See the world! No airfare needed. If you're a lazy ghost, just haunt a train, ship or airplane until it gets you to Paris or whatever place you've always wanted to visit. Other ghosts may look down on you as a tourist, but don't worry about their opinion. We're all equal when we're dead. Consider joining a ghost band and touring the world. Big bonus: ghost groupies.
5. Cross over to the Other Side. Look, clearly your time on Earth is done, so get over your life. You know that beautiful white light that keeps opening above your head, with the sound of angels singing and your dead relatives waving at you? Go in there. You might as well. It's where you'll end up eventually, so what are you waiting for? The living world is just not into you anymore, so move on.
There must be lots of opportunities for those no longer burdened with a body or responsibilities. In the comments below, let's hear what you might do if you were ghost without a place to haunt.
Commenting within seven days enters you for
The Haunted E-book Tour Grand Prizes
, including The Haunted Library and a Kindle (or two!).
Your comment also enters you to win a pair of ebooks from Stella—The Haunted E-book and Dark Tomorrows.
Thanks to Stella for hosting me on Ex Libris today, and thanks to everyone else for following the tour!
J.L. Bryan studied English literature at the University of Georgia and at Oxford, with a focus on the English Renaissance and the Romantic period. He also studied screenwriting at UCLA. He is the author of five novels and one short-story collection. His new novel is The Haunted E-book. The sequel to his novel Jenny Pox will be available by summer 2011.
GIVEAWAY RULES:
1.
fill out the main form
so I have your contact info (
just once
, if you have already filled it out for a previous giveaway that's enough)
2. Answer J.L.'s question and tell us
what you might do if you were a ghost without a place to haunt.
Giveaway is open worldwide and ends on Friday 4 March 2011.